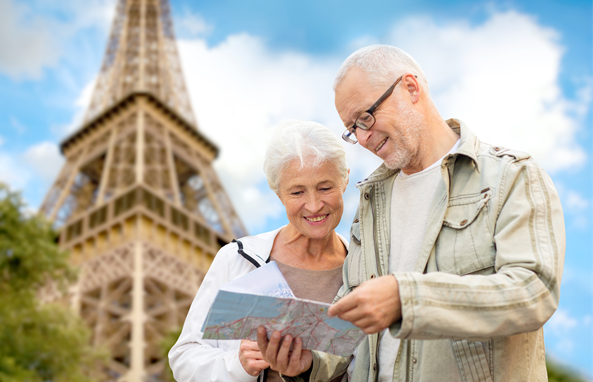 Everyone knows that the holidays are a time for visiting out of town friends and family. If you are a caregiver to someone with Alzheimer's disease (AD), you may be wondering about whether to embark on a road trip this year. Just because you're caring for an elderly loved one doesn't mean you have to cancel the yearly tradition. With a little planning, you can still get away and everyone can have an enjoyable time.
Before cementing holiday travel plans, be sure to consult with your physician to discuss any physical or mental impairment that may limit your loved one's ability to travel. Let the doctor know how far you will be going, the mode of travel and amount of time you plan to spend away from home. Ask about any medications for anxiety that may be helpful and be sure to get prescriptions filled before leaving town.
If you are driving, consider renting a mini-van which can provide easier access to getting in and out of the vehicle as well as more room for the wheel chair, walker, and/or other medical supplies.
If you plan to fly for the holidays, be sure to remember to request special seating for traveling with disabled travelers. Advise airport and/or hotel staff of any special dietary needs your loved one has as well. Even if your loved one is able to walk short distances, it may be a good idea to request a wheel chair in the airport to accommodate long distance walking that is common when flying. If you plan to stay in a hotel room; request the first floor for ease of access to the room.
Consider decreasing the number of days and limiting the usual activities you normally engage in when traveling with a loved one with AD-allowing for frequent periods of rest. Be sure that every destination can accommodate his/her needs when it comes to wheel chair access, diet and more.
It's a good idea to pack all the essential equipment to provide for comfort and safety when your loved one must sit for long periods of time such as TED Hose (supportive anti-embolism stockings), cushions and pillows for comfort an emergency first aid kit. Don't forget to bring your loved one's medical history along in case of an urgent health issue that arises while you are out of town. Other items to pack include: sunscreen, hats, and plenty of water along with healthy snacks.
For traveling with loved ones with dementia:
Stick to the normal daily routine as much as possible regarding mealtime, bedtime, etc.
Bring along some familiar belongings to help reduce confusion about being in a new environment
Here are some other tips for traveling with a friend or family member with Alzheimer's disease:
Communicate clearly and explain as much as your loved one can understand about where you are going and what you will be doing on your holiday trip
Avoid overloading your loved one with too much information
Attempt to avoid visiting places with large crowds of people and a high noise level
Observe your loved one with AD closely for signs of anxiety and agitation while traveling
Find a quiet place to wind down if you do observe anxiety in your loved one with AD
Plan to be settled in your hotel room or travel destination by sun down, particularly if your loved one has symptoms of Sundowners Syndrome
Don't overload your loved one with too many activities or too many hours of travel in one day
Learn more about Alzheimer's disease for caregivers by CLICKING HERE to sign up for our 25 lesson online course at AlzU.org.