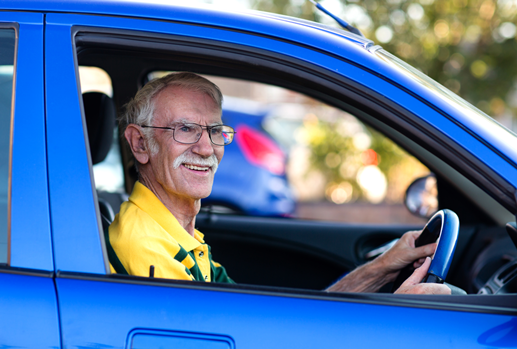 Everyone knows that as a senior ages, the risk of accidents increases due to debilitating physical and cognitive functioning such as: diminished vision, slower reaction responses, reduced hearing ability, slower processing of information in the brain, side effects of medications and more.
When a driver has Alzheimer's disease (AD), a decrease in cognition occurs even faster than in the average senior. Therefore, it's vital that caregivers keep a watchful eye on their loved one's driving abilities while in the early stages of Alzheimer's disease.
According to The Alzheimer's Association a person with AD will eventually lose the ability to drive safely because of diminished reaction time and slow decision making ability. Those in the early stages of AD may or may not have the ability to drive safely, a diagnosis on its own does not necessarily denote that your loved one should lose his/her driving privileges. The Alzheimer's Association also suggests that the person with AD should be involved in the decision making of the cessation of driving, but will not necessarily have the final say. Whenever a driver with AD poses a risk to self or others, driving privileges must be withheld.
Here are some tips from AARP on creating a safety check list to track of your loved one's skills to asses for safe driving. Evaluate for;
•Signs of nervousness and anxiety behind the wheel
•Difficulty keeping the car in the lane when driving
•Increase in near crashes or "close calls"
•Frequent dents, fender benders, scratches and/or driving into garage doors, mailboxes and/or more
•Distractions which occur more readily
•Trouble concentrating while driving
•Difficulty judging distance between vehicles at intersections and/or on entrance or exit ramps
•Struggling to looking over his/her shoulder when backing up or changing lanes
•Getting lost when driving more often than in the past
This is a general guideline for things to watch for to evaluate the safety of your loved one with AD behind the wheel. The attending physician should be consulted (and informed of any signs of safety risk noted) with regarding your senior loved one's ability to drive safely. The physician may ultimately be the one to pull the plug on driving privileges, depending on his/her evaluation of the patient's cognitive abilities. Note that many states have mandatory reporting to the department of motor vehicles when a diagnosis of AD is made.
Learn more about caregiving for those with AD by CLICKING HERE to join our 25 lesson course at AlzU.org today.