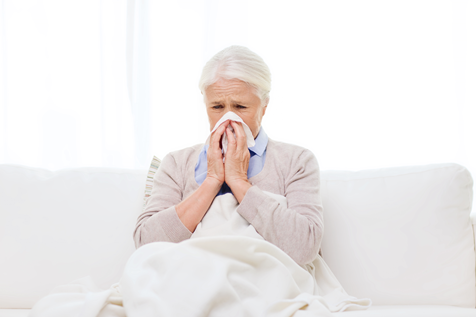 While it's certainly no fun for any of us to have the flu, it's important to note that viruses can take a particular toll on the health of the elderly. In fact, they can quickly go from a simple respiratory infection to a deadly illness. In fact, the flu has been found to kill as many as 36,000 Americans in one year and 32,000 of those individuals were elderly (65 years of age or older). That's the reason it's important to protect your elderly loved one with Alzheimer's disease from getting the flu this winter.
Other measures to reduce the chances of flu in your elderly loved one include;
•Ask the physician about getting a yearly flu shot for your loved one
•Limit visits from kids and small children when they are infected with the flu
•Offer a diet rich in antioxidants (bright colored fruits and vegetables) in order to help build the immune system
•Observe good hand washing techniques and refrain from sharing drinking or eating utensils
The flu can easily be prevented via a flu vaccine, according to the Centers for Disease Control. Make sure to consult with the primary care physician before taking your loved one for a flu shot.
According to the CDC, November is the best month of the year to get vaccinated, but even if you wait until December, it's still beneficial since most flu occurs in January or later in the winter months. In fact, flu season varies from year to year and can even last through the early spring months.
Not everyone should get a flu shot. Those with an allergy to chicken or eggs or individuals who have had a severe reaction to an influenza vaccine (such as Guillian-Barre' Syndrome) should refrain from having a flu shot. If you or your loved one has a moderate fever, you should hold off on getting an influenza vaccine until the fever subsides.
Learn more about health topics for those with Alzheimer's disease (AD) by CLICKING HERE to join our 25 lesson course today at Alzu.org.