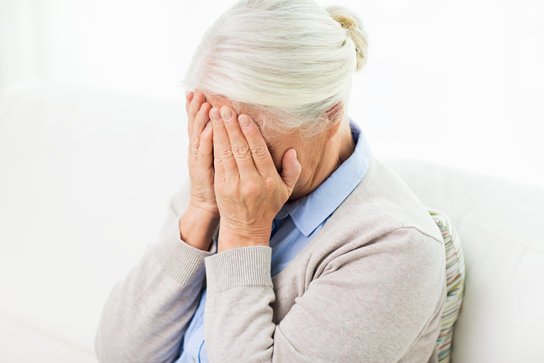 If you are a family caregiver for a loved one with Alzheimer's disease (AD) you may already know of the grief and loss that comes along with the territory.
Caregivers are not always aware of the form of emotions grief can (and will) often times take. One example is feeling a low level frustration or venting your feelings. These emotions may be masquerading as symptoms of grief and loss. Loss of what you ask? There are many losses in the course of caring for a loved one with AD such as: loss of freedom, loss of your best friend in one form or another, loss of the family dynamics and social structure of the family unit, loss of income while providing care and more.
Yes grief comes in many different forms for caregivers, including: pain, anxiety, sadness, anger, bargaining, checking out and other common emotions. The most important factor to keep in mind is that it's vital to feel them all, don't try to numb out by using alcohol, drugs or other forms of distraction. Express your sorrow, remorse and regret freely. It's all part of the healing and spiritual growth process.
AT first, many caregivers are taken off guard by the intensity of emotions surrounding the disease. The initial shock of finding out their loved one is stricken with an illness that is so chronic and un-curable can cause feelings of confusion, helplessness and hopelessness. But hang on because there is always a silver lining in any situation-even one as seemingly dire as Alzheimer's disease.
Once you deal with all of the emotional turns and twists that can accompany a debilitating disease such as AD, you may be pleasantly surprised to discover a sense of deep purpose. This is the stuff that life is REALLY made of such as unconditional love and endless selflessness. You will be hard pressed to find a fellow caregiver who hasn't experienced the positive side of caring for a loved one with Alzheimer's disease. If you are going through some tough emotional times today, hang in there. Talk to someone, anyone, reach out for support and then get ready because better days are certain to be just around the corner.
Learn more about caregiving for those with Alzheimer's disease by CLICKING HERE to join our 25 lesson course at AlzU.org today.