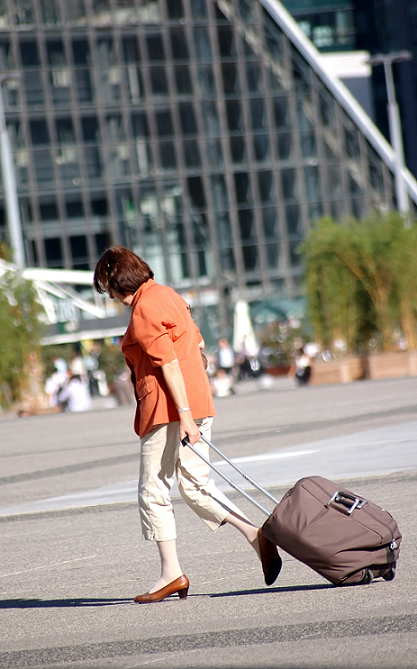 Now that the holidays are just around the corner, many Alzheimer's caregivers and their family members are beginning to feel the tension and stress that can accompany the holidays, particularly when coping with Alzheimer's disease (AD).
There may be concerns regarding travel, out of town guests,holiday parties and more. Caregivers often times feel frustrated, lonely, depressed and cut off from others as they continue to meet the needs of their loved one with AD during the busy holiday season.
In hopes that this holiday season will bring joy to you and your family, AlzU.org offers this 3-part article on tips for coping with AD during the holidays, designed with AD caregivers and family members in mind. First off, we'll address holiday travel with a loved one with AD, next safety during the holidays and last, but not least, tips for holiday gift giving for your loved one with AD and their caregiver.
Tips for traveling with a loved one with Alzheimer's during the holidays;
•Always ensure someone stays with your loved one with AD during travel. Even those in the early stages of AD may become easily confused and lost in airports or unfamiliar places.
•Avoid peak travel times when lines are long and stress is at peak.
•Allow plenty of extra time for travel to avoid excess stress and the need to rush.
•Be sure to let airport and hotel staff know you are traveling with a person with special needs-particularly if your loved one has dementia.
•Arrange for special equipment (such as wheelchairs) in advance.
•Don't forget to pack emergency information such as medical records and/or Medic Alert notifications.
•Schedule travel times around regular sleep and rest pattern when possible.
•Keep travel plans as simple as possible
•Attempt to keep your loved one's daily routine as stable as possible.
•Enlist help from friends and family, don't take on too much alone. It's wise to have help from at least one other person when traveling with a loved one with AD.
Learn more about topics for Alzheimer's caregivers and those in the early stages of AD by CLICKING HERE to join our free 25 lesson course at Alzu.org.