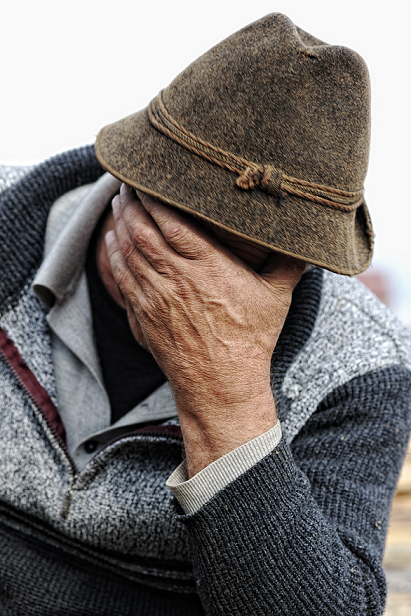 It's that time of year again, after the holidays, the season when many of us start feeling a bit blue due to the lack of sunshine, cold weather and being stuck inside for months with cabin fever. Whether you are a caregiver or a senior with Alzheimer's disease (AD), the long winter months can impact your emotional well-being.
One common condition that has an effect on seniors and caregivers (particularly in the winter months) is seasonal affective disorder, also referred to as (SAD). Seniors are oftentimes unable to recognize and/or identify their own symptoms of depression, making it important for caregivers to be aware of the signs and symptoms of SAD.
Irritability
Increased anxiety
Problems with memory
Lack of personal care
Loss of appetite
Lack of motivation and energy
Feelings of helplessness
Caregivers may notice a sudden change in mood, appetite, or energy level in their loved one, other symptoms may involve, sadness, sleep disturbances or lethargy. The key in assessing for SAD is to tune into sudden changes that seem to revolve around the cold, dark months of winter. Of course, any symptoms of depression should be reported to the physician regardless of the season.
Many of these signs and symptoms can overlap symptoms of Alzheimer's disease. If you recognize any of these signs, it's important to talk to the physician about them. The attending physician will decide as to whether a screening for depression or SAD should be scheduled.
Treatment for SAD
Mayo Clinic.org reports that treatment for SAD may involve a variety of modalities including, light therapy, medication, and/or psychotherapy. Mayo Clinic reports a disclaimer regarding treatment for SAD; patients with bipolar should report the condition to the physician because treatment for SAD could trigger a manic episode.
Light therapy- (sometimes referred to as phototherapy) is artificial light that mimics natural outdoor light. Light therapy may change brain chemicals related to mood. This method of treatment is known to work quickly (many times within a few days) and has few side effects. The physician can recommend the most effective and safe type of light therapy device.
Medications-In some cases antidepressants are given for SAD. The disadvantage to antidepressant therapy is that it takes several weeks to take effect. Some antidepressants are contraindicated for those with AD because they can worsen cognition. The attending physician will consider if an antidepressant is needed and if so, which type of antidepressant is best for those with Alzheimer's disease.
Psychotherapy-commonly referred to as "therapy" is another potential treatment for SAD. Therapy can help individuals deal with negative thoughts and behaviors, learn coping mechanisms and to deal more effectively with stress. The attending physician can make a referral if necessary for your loved one with AD, if psychotherapy is recommended.
In elderly adults, particularly those who live alone, SAD can impact just about every aspect of life, from socialization to appetite, self-care, cognitive level of functioning and more. Therefore, it's vital to seek professional help right away if signs are noticed.
Learn more about Alzheimer's caregiving topics by CLICKING HERE to view our FREE 25 lesson course at AlzU.org today.