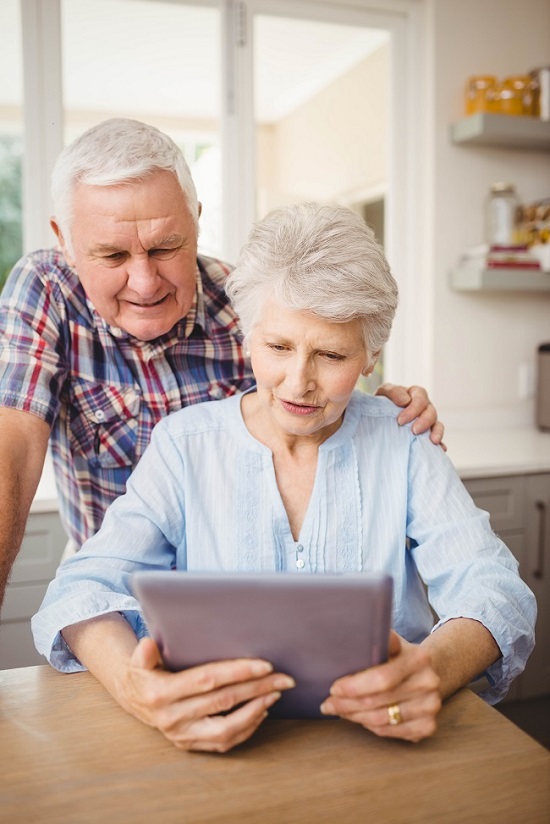 If you or a loved one with Alzheimer's disease (AD) need some motivation to adhere to the Alzheimer's prevention diet, you may want to consider using a digital diet and activity tracker.
There are many FREE apps available that can help you tally up your daily calories, nutrients, energy expenditure (via physical exercise) and more. A few examples of apps for your laptop or smart phone include, Fit Bit, Map My Walk, My Fitness App, and more. In fact, there's an app for just about every type of user. Some of the most popular diet and activity trackers include:
See How You Eat-this is a great app for those who are visual and like to share photos of food. See How You Eat allows users to take and store pictures of their meals. The system displays your food photos in an effort to help users make healthier choices. This is a free app, available on iTunes or Google play, that provides meal reminders for those who need to eat more regularly, and helps users establish and maintain healthy portions. This app may be most helpful for people with Alzheimer's disease (AD) who forget to eat regular daily meals, or anyone who has trouble with portion control.
My Fitness Pal-a free food and activity tracker that allows users to enter their weight, activity level and planned daily workout routine. The program automatically calculates how many pounds a user will lose if they continue eating the same amount for the upcoming 5 weeks. This app also allows users to get support from others, and load recipes which will be saved by the system (with 2 million pre-loaded food items). This would be a good tracking app for a user who wants to tweak the total calories, fats and proteins eaten each day, while incorporating the number of calories burned into the daily tracker. Caregivers looking for a fast and easy way to track calories for weight loss would find this app useful in providing detailed feedback about nutrition and diet.
My Diet Coach-this app helps users resist food cravings and address issues with emotional eating. Users can set goals such as eating more vegetables, drinking more water, or increase activity level. This tracker is a good option for people on a weight loss diet who respond to inspirational quotes to stay motivated.
Calorific-this unique diet and food tracker was designed to help users identify the average calories in each food portion. Each food has been meticulously researched, weighed and photographed in high definition. Instead of tediously tracking your calorie intake for each meal. Calorific educates users on what 200 calories worth of food looks like. The system also divides foods into healthy ratios to incorporate healthy eating patterns such as, eating the right combination of fiber and carbohydrates together to help lower the glycemic index. This app is great for caregivers who don't have time to track their daily food intake and need a quick and easy way to identify healthy portions and approximate calories without having to take the time to check labels.
Rise Up-a therapeutic food and diet tracker designed as a user friendly app for people with eating disorders such as anorexia, bulimia or binge eating. This system allows users to track emotions, log meals or get support. Rise Up uses a program they call integrated cognitive behavioral therapy (CBT), via self-monitoring homework, as a foundation of the tracker's technology. This app aims at helping people address issues such as body image, emotional eating patterns and more. Rise Up may be a good choice in diet tracker for those who are struggling with food, dieting and exercise challenges, as well as body image issues.
To learn more about Alzheimer's caregiving, and Alzheimer's prevention & treatment, Join AlzU.org Today.