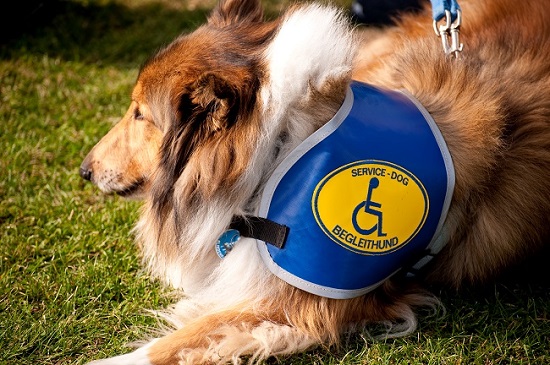 Service dogs are well known for helping people with all types of disabilities, from blindness to epilepsy, or even anxiety; a service dog can be trained to help people in many ways.
But, did you know that service dogs are becoming popular for helping people with Alzheimer's dementia. In fact, these dogs are trained to do hundreds of tasks that can help people with Alzheimer's disease (AD) maintain their autonomy for as long as possible. Not only can service dogs assist people with dementia, they can also help shoulder some of the daily responsibilities for Alzheimer's caregivers and family members.
Common Dementia Service Dog Tasks
You may be wondering just what, exactly, a dog could do for a person with dementia. Here are a few common tasks these specially trained dogs can do:
-Pick up items that were dropped
-Close and open doors
-Notify the handler that medications were missed
- Provide tactile stimulation and companionship
-Prevent the handler from getting lost
-Encourage the owner to open the cupboard (when he/she forgets to eat)
-Remind the owner that the service dog needs to eat as well
-Trigger an alarm for emergency situations (such as an accidental fall)
-Lead the owner home upon command if he/she gets lost
How Dementia Service Dogs are Trained
Training a dementia service dog is not an easy undertaking. The training process takes months. It begins with scent training, aimed at building the dog's bond with the new owner—before the two have even had an opportunity to meet! The dog must have a certain type of temperament. Only a few breeds qualify to be trained as dementia service dogs including, Labrador and Golden Retrievers, German Shepherds and Border Collies. These dogs are trained for some very unique tasks. They must be able to deal with some unusual situations and demands (like being in charge of their own feeding schedules).
Dementia service dogs respond to sound triggers in the home. For example, an electronic timer triggers a sound that can alert the dog to bring a bag of medicine to the owner. Inside the bag is a note reminding the person with Alzheimer's that it's time to take medication. Another tone prompts the service dog to lead the owner into the bathroom at specific times, where the handler can easily discover a note instructing him to wash up or drink a glass of water. The service dog is also trained to respond to special instructions, such as the "home" command, which prompts the dog to lead the confused owner back to a safe environment.
Learn More About Service Dogs
Read about recent clinical studies on how canine companionship can help with AD, and Learn about where to purchase a trained dementia service dog, by CLICKING HERE to read our previous Alzu.org post.
To learn more about Alzheimer's caregiving, and Alzheimer's prevention & treatment, Join AlzU.org Today.