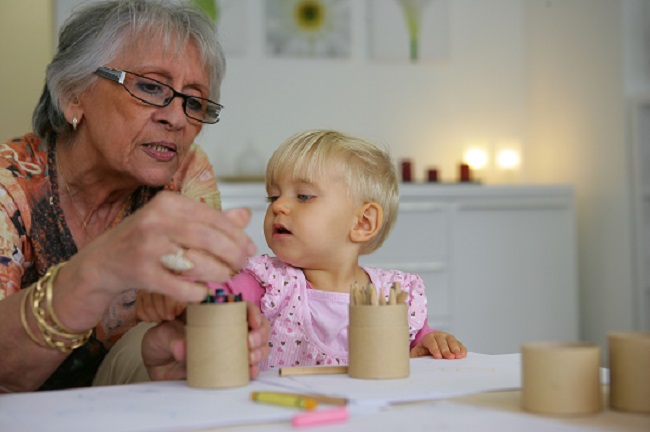 If you are a caregiver, looking for activities to do with your loved one with Alzheimer's disease (AD), you may be interested in learning about a new coloring book created specifically for people with AD.
The new coloring books is called "Color Your Mind." The coloring book was introduced by Maria Shriver, NBC News anchor, and advocate for Alzheimer's research for women. Shriver is dedicated to helping raise funds for Alzheimer's research-specifically to find out why women are more prone to the disease than men. Raising funds for research projects involving women and Alzheimer's disease is a huge endeavor for Shriver's non-profit organization called, "The Women's Alzheimer's Movement."
The idea for the coloring book incorporated a new concept in an old idea, to help those with AD connect with the people they love. The coloring book was released in June in honor of the National Brain Awareness Month. June 21st was designated "The Longest Day," a day for remembering those who have been diagnosed with AD, and for raising money to help fund the cause.
Color Your Mind is a tool that offers a way for people with Alzheimer's to connect with others, while engaging in a creative endeavor. An artistic outlet (like coloring) is thought to help lower stress. Not only that, when a person with Alzheimer's disease engages in activities with others, it promotes socialization (which is one lifestyle factor recommended for Alzheimer's prevention).
The coloring book itself includes helpful tips for caregivers (taken from family members and physicians caring for people with AD). The images in the coloring book are based on visits to nursing homes.
Shriver says the project is dedicated to her dad, Sgt. Shriver, who was diagnosed with AD in 2003. "When I would go to visit my dad as his disease progressed, I had fewer and fewer things that I could do with him," Shriver said in a Today.com interview. "I could take a walk with him, but a lot of times he didn't want to walk. I played puzzles with him and sometimes drew on a piece of paper," Shriver added.
Dr. Richard Isaacson of the Alzheimer's Prevention Clinic at Weill Cornell Medicine/New York Presbyterian Hospital, was interviewed about the coloring book. Dr. Isaacson was quoted as saying, "The person with Alzheimer's may not be able to communicate his or her thoughts as well as they used to or may not remember what happened to the conversation 10 minutes ago, but they're able to express themselves through art-through drawing."
To read the Today.com article with an interview with Maria Shriver about the new coloring book, CLICK HERE
To learn more about Alzheimer's caregiving, and Alzheimer's prevention & treatment, Join AlzU.org Today.