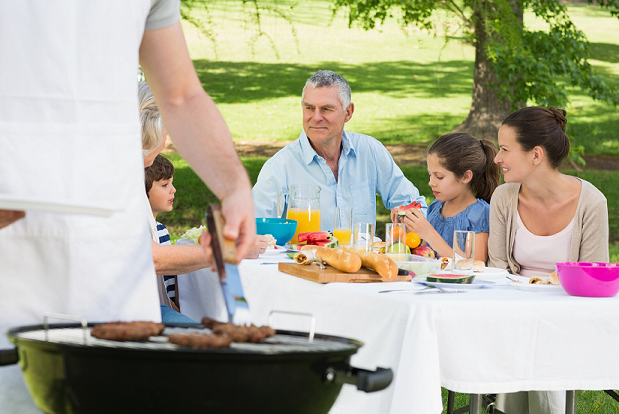 If you're an Alzheimer's caregiver, looking for some new family traditions this year on the 4th of July, you may be interested in learning some tips for safe and enjoyable activities this year. The traditional fireworks festivities and backyard barbeques (involving large groups of people) may not be well received by people with (AD), particularly for those with dementia.
Creating new traditions may be vital in helping your loved one with Alzheimer's Disease (AD) feel connected and engaged with family and friends during the holidays. But, many activities are not very well suited for seniors, and particularly for those with AD dementia. Implementing new safety measures will help ensure a safe and enjoyable holiday for everyone involved.
4th of July Safety Tips
1. When going outside, limit any exposure to the direct sun for your loved one.
2. Create a shady area with an umbrella, or select a spot under a tree that naturally shades from the sun.
3. Encourage your loved one to wear light-weight, light-colored, loose fitting clothing.
4. Offer your loved one a wide brimmed hat to shield their face from the sun.
4. Avoid having your loved one stand for long periods of time.
5. Ensure there is a comfortable seating arrangement such as a portable chair with a cushion.
5. Keep your loved one well hydrated all day, be sure to take plenty of water everywhere you go.
6. Offer frequent bathroom breaks to your loved one to avoid accidents.
7. Limit the amount of time spent in large groups of people.
8. Avoid exposure to loud noises to reduce anxiety(particularly for those with dementia).
4th of July Stay at Home Activities for Seniors with AD
-Play (and sing along with) patriotic music (particularly that of your loved one's era) music is very therapeutic for those with AD dementia. Some ideas include:
"Yankee Doodle Boy"
"This Land is Your Land"
"Over There"
-Decorate with flags and use a red, white and blue theme when cooking.
-Watch a firework display or a classic movie on television.
-Play familiar family board games or cards.
-Compile a photo album with pictures of July celebrations of the past.
-Make traditional 4th of July foods such as hamburgers, fruit salads and coleslaw.
-Include your loved one in food preparations (as much as he/she can help).
-Coordinate a dessert bar with healthy frozen and cold dessert choices.
In conclusion, there are many creative ways to adapt your old traditions for the 4th of July. New activities with friends and family can ensure a safe and happy 4th of July for you and your loved one this year.
To learn more about Alzheimer's caregiving, and Alzheimer's prevention & treatment, join AlzU.org today.