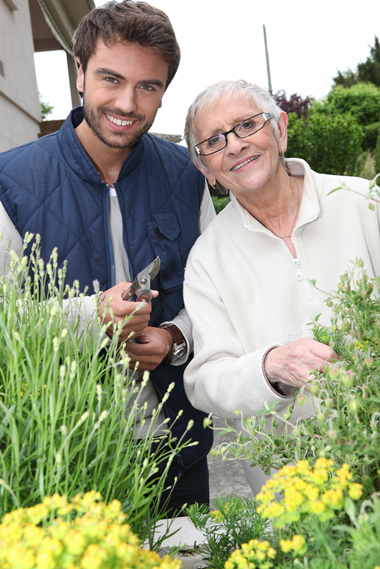 If you're an Alzheimer's caregiver, chances are you already know just how challenging it is to make time for yourself. But research shows that scheduling regular time off is vital to the overall health and well-being of caregivers.
Research has shown that taking time out of your busy schedule for self-care, enjoyment, or just plain relaxation helps you live a healthier, more satisfying life. "Relieving stress can lower blood pressure, help you sleep better, and even help you maintain a healthy weight," says Berit Brogaard, a professor of psychology and philosophy at the University of Missouri in St. Louis.
The internet is exploding with articles on tips for carving out time for self-care, particularly if you are a full-time caregiver. But once you find some alternative services for your loved one (such as an adult day center or a friend or family member to cover), what next?
Many caregivers are so accustomed to not taking time for themselves that they're at a loss for what, exactly, to do(even when they have time).
Make time for YOU
Here are some tips for AD caregivers to get more "me" time into their busy summer schedule :
Spend time reading a good book, doing a crossword puzzle, or simply watching a favorite movie or television show;
Go shopping at your local flea market or garage sale;
Get out and talk to people or take a leisurely stroll around a mall or other type of shopping outing - it may be a great way to relieve stress;
Play your favorite music. Even if you find it impossible to get out of the house due to chores, keep some classical music (or any type of music you prefer) playing in the background to promote a sense of well-being and relaxation;
Unwind by having dinner with friends at a local restaurant;
Take a meditation class. Studies have shown a close connection between mindfulness training or formal meditation practice, and being able to manage stress better;
Go for a long walk in a nature setting (if possible). Connecting with the outdoors is a great way to get your mind off of worries and stay in the moment;
Feed the birds or squirrels at a local park (or put out some bird feeders in the yard). Watching animals in nature is a great way to escape and unwind, and it may be a favorite pastime for your loved one with AD;
Sign up for an art or ceramics, cooking, or other creative class. Fueling your creativity is a great way to combat stress, meet new people, and enjoy your time off;
Watch a comedy improv show live, at the movie theater, or rent a movie to watch at home. Laughter is great medicine, and it's been found to be therapeutic in fighting stress;
Take an exercise or yoga class. There's nothing that helps to reduce stress and promote relaxation like a great workout. Taking a class helps promote accountability, and may even offer a great social outlet.
With a little advanced planning, and the intent to commit to self-care, AD caregivers can take regular time off to promote better physical and emotional well- being. Do it for your loved one or your family members; but most of all, do it for yourself!
To learn more about Alzheimer's caregiving, and Alzheimer's prevention & treatment, join AlzU.org today.