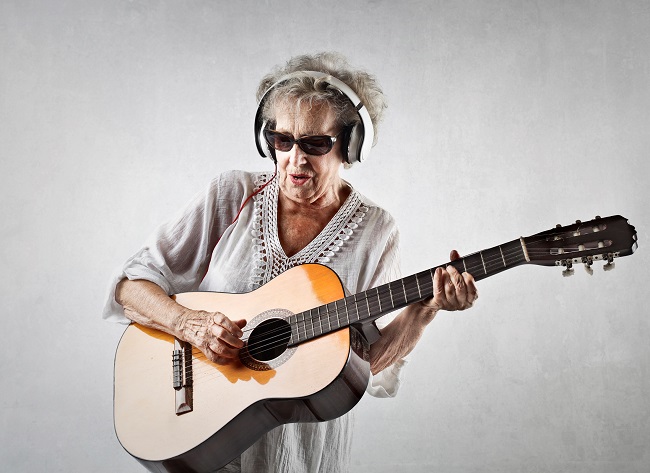 AD Wisdom Pearl #7
Music has long been known for being able to engender a sense of emotion, whether it's relaxation, excitement, enthusiasm, nostalgia, or other feelings; there is no doubt that music is connected to strong emotion. Those feelings that get stirred in us when we listen to our favorite old-time tunes are also believed to bring to the surface a feeling of well-being for people with Alzheimer's Disease (AD). In fact, many research studies have been performed recently that point to evidence that listening to music can result in improvement in cognitive functioning.
Study participants who took cognitive impairment tests such as, the Cognitive Abilities Screening Instrument (CASI) evaluation, and the Mini-Mental State Evaluation (MMSE) test, improved in test performance after just 6 months of music intervention. Another recent research study found that a specific type of music could promote various positive effects. For example, familiar Spanish songs were shown to stabilize or improve self confidence in those with mild to moderate stages of AD. Those who listened to familiar songs in the study performed better on cognitive and behavioral tests than those who listened to unfamiliar songs.
Music-Based Intervention
Music based intervention is a technique administered by a music therapist, using musical elements (such as melody or rhythm), to promote triggers for remembering verbal content. Recent scientific studies discovered that music could enhance the brain's ability to encode information when lyrics were sung to the beat of music, rather than verbally conveyed—engendering a higher level of information retention.
Music with Activities
Music was found to be effective for AD prevention, particularly when combined with singing, dancing or playing a musical instrument. In one study, patients with mild to moderate dementia were divided into 3 groups, including one group singing with rhythmic movements, one group listening with reminiscence and discussion, and the control group. Emotions and cognitive functioning were improved in both the singing and listening groups.
Another study, conducted by Gomez Gallego and his colleagues, discovered that those who combined music with other activities (such as greeting new people, dancing, or playing an instrument, showed more of a concurrent improvement in cognitive function. This 6-week study also discovered that combining music with specific activities alleviated negative neuropsychiatric symptoms (such as agitation) in people with AD.
Caring Through Music Video
To learn more about Alzheimer's caregiving, and Alzheimer's prevention & treatment, join AlzU.org today.