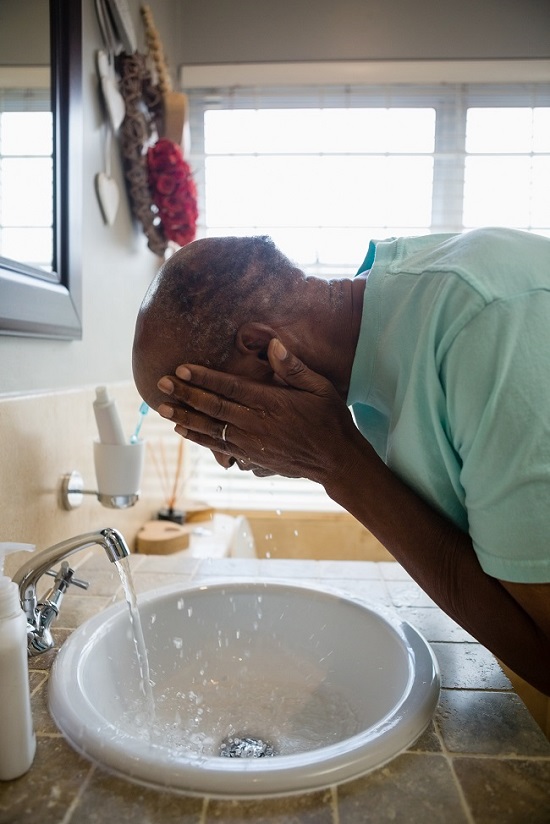 If you are a caregiver for a loved one with Alzheimer's dementia, you may know full well, just how challenging providing hygiene can be, particularly at bath time.
Bathing is one area of defiance that many people with AD dementia exhibit. A recent survey was conducted to get feedback from an AD caregiver community, here are some tips offered by real caregivers:
1. Lower your expectations, a daily bath is not necessary for optimal hygiene and health. In many
countries, outside of the U.S., bathing is NOT part of the daily routine. In fact, for elderly
folks, bathing daily may lead to dry skin and ultimately to skin break down—which can result in
infection. Maintaining the skin's natural oils by implementing frequent sponge baths may
be optimal.
2. Consider water an option, not a necessity. Some seniors with dementia are not very keen on the
idea of being submerged in water. A sink side sponge bath or a dry bath (using products such as
Foaming, no-rinse, dry cleansers and shampoos) may be a good alternative to a tub bath.
3. Use your imagination to enlist your loved one's cooperation when bath time is necessary.
Try options such as, playing favorite old-time music, or using aromatherapy to provide a relaxing
and enjoyable setting in the bathroom.
4. Enlist support from health care professionals. Some people with dementia will push back when
confronted by family members, but are good at following doctor's orders. Ask the nurse or
the attending physician to write out some guidelines for regular hygiene and self-care (including
nutrition and eating recommendations).
5. Be supportive and listen to objections. Use patience to listen to your loved one's
objectives. Many people with dementia have difficulty expressing concerns and emotions, be sure
to use empathy and try to understand your loved ones perspective.
Common complaints'at bathtime from people with dementia include:
Unmanaged pain
Feeling frightened, vulnerable, and exposed
Feeling embarrassed
Feeling a loss of control
The resistance to a bath may be something as simple as the fact that the person with dementia gets cold. In this instance, heating up the bathroom sufficiently before the bath or shower may resolve the problem.
6. Hire a professional. If the battle seems too much to endure, consider enlisting the help of a
home health care agency. Be sure to ask for a provider with experience working with people with
AD or other types of dementia.
7. If the problem is really severe, it may require the help of a dementia trained therapist.
Insurance can be billed for these specialty experts when difficult behaviors decrease the person
with the AD's ability to function normally, or impact safety.
The most important thing to remember when it comes to bath time challenges for people with dementia is that you are not alone. Family caregivers and professional health care providers alike report this as one of the most common issues they deal with when it comes to dementia patients. Keep in mind that you are not powerless and there are many options. If you feel the situation is impacting you adversely on a physical or emotional level, be sure to seek out help, such as getting medical care and finding local suggestions from an organization such as an Alzheimer's support group. Go to your local Alzheimers Association website to find a group near you.
To learn more about Alzheimer's caregiving, and Alzheimer's prevention & treatment, join AlzU.org today.